The Knoxville Skatepark
Art Show/Skate Demo
Friday, Nov. 3rd, 2017
Hexagon Brewing Company
1002 Dutch Valley Dr., Knoxville, Tennessee, TN
Come on out to Hexagon Brewing on Friday Nov 3rd for a First Friday throwdown! We will have the Knoxville Skatepark booth on site with stickers and T-shirts for sale. There will also be artwork by local artist Eric Lofits and others for sale. We will also be having a skate demo with ramps, rails and a spectacular Flaming Hoop of Fire!!! You don't want to miss this one!!!
10 Years at the Mill and Mine
Friday, Oct. 13th, 2017
The Mill and Mine
227 West Depot Avenue, Knoxville, Tennessee, TN 37917
The Knoxville Skatepark Task Force will set up the booth at the 10 Years show at the Mill and Mine in Knoxville on Friday Oct 13th. Come on out, enjoy the show and find out more about the latest improvements and future plans for the Knoxville Skatepark. We will have T-shirts for sell and KSP stickers!

Donate to the Skatepark!
We now have a Go Fund Me page for the Knoxville Skatepark! You can find out about future plans for upgrades to the Knoxville Skatpeark and donate online at https://www.gofundme.com/knoxvilleskateparkphase2
About the Knoxville Skatepark
Development of the Knoxville Skatepark is a public-private partnership between the City of Knoxville and Knox County Parks & Recreation departments and hundreds of skateboard enthusiasts who have provided design input and raised funds for the project. It fills the need for thousands of avid regional skaters who have honed their skills in parking lots or have traveled to other cities to skateboard.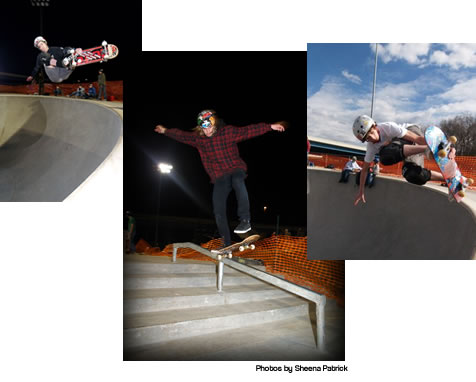 Located in Tyson Park, just off I-40 and adjacent to the University of Tennessee, the skatepark is ideally situated to attract recreational skateboarders and to serve as the host site for national competitions and exhibitions. Events, demos, contests, and more will be going on at the skatepark in the future, so check back for the latest happenings at the skatepark.
The Future
The phase II development of the park calls for additional features and spectator accommodations to make it a true national venue. There are plans to add a wide variety of street obstacles into the flat plaza area around the skatepark. Additional plans include a beginners bowl and more. The Knoxville Skatepark Task Force will continue to raise funds for additions and expansion of the park, so donate today!
Click here to find out how to support the Knoxville Skatepark.